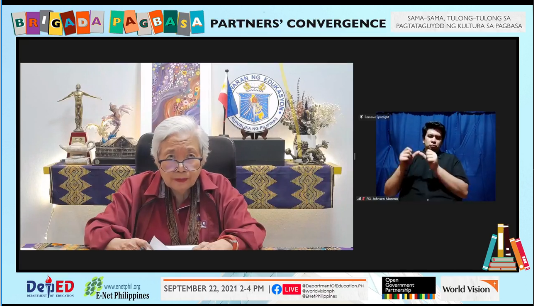 The World Vision Development Foundation, through the Education Network (E-Net) Philippines and Open Government Partnership CSO Education Cluster organized the Brigada Pagbasa Partners' Convergence webinar, in coordination with the Department of Education External Partnerships Service on September 22, 2021 via Zoom teleconference and broadcasted simultaneously via DepEd Philippines and its partners' Facebook pages.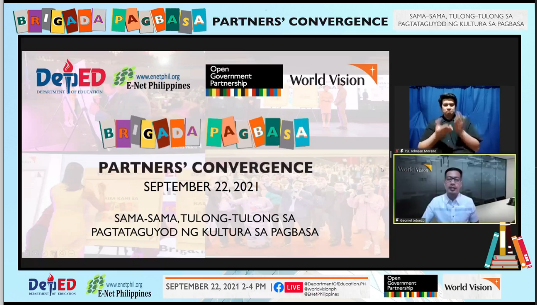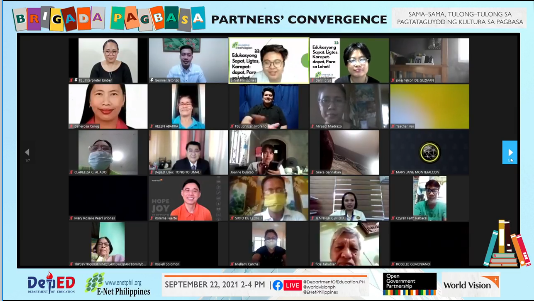 The Brigada Pagbasa campaign aims to help Filipino children to become functionally literate and contributes to empowering parents, caregivers, community volunteers, and education stakeholders within the context of transparency and local accountability by creating a link between partners and vulnerable communities to support last-mile learners and ensure access to after-school structured literacy development programs.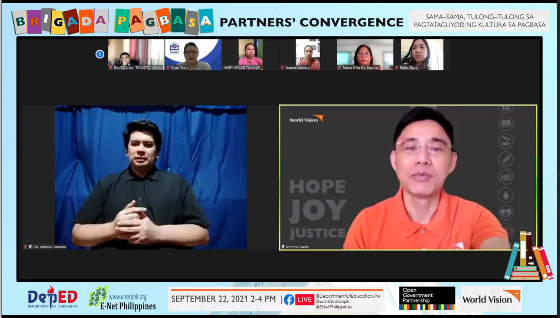 World Vision Development Foundation Executive Director Rommel V. Fuerte delivered his welcome remarks, acknowledging the presence of DepEd Secretary Leonor Magtolis Briones and Undersecretary Tonisito M. Umali, Esq., who will serve as keynote speakers in this webinar campaign. Director Fuerte shared the success of their Brigada Pagbasa partnerships, with companies, organizations, and individuals committed to improving the academic performance of Filipino children.
DepEd Secretary Leonor Magtolis Briones congratulated World Vision Foundation and its partners for organizing the Brigada Pagbasa campaign, in relation to DepEd's learning continuity program. She shared that the Department is holding on to its advocacy and commitment to providing quality basic education despite the lockdowns, cancellation of classes, and precautions undertaken due to COVID-19. The Secretary thanked the foundation for its initiatives in forming, leading, and conceptualizing the idea of Brigada Pagbasa. She emphasized that Brigada Pagbasa is a massive campaign that envisions bringing together experts, change-makers, policymakers, and stakeholders across local and international agencies and organizations to form collaborations, cooperation, and joint projects to address education-related challenges and contribute possible solutions.
Secretary Briones hoped for the success of the campaign and thanked those who believed in the Department and supported the idea and advocacy that learning must continue. She also added that this event aims to provide sharing of good practices and reiterated that everyone should strengthen their belief that there is good in continuing education despite the challenges.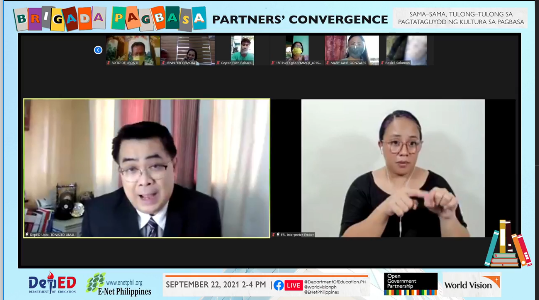 DepEd Undersecretary for Legislative Affairs, External Partnerships and Project Management Service Tonisito M. C. Umali, Esq., talked about the increased enrollment rate for this school year, with over 28 million public and private school enrollees. He shared the challenges and struggles experienced not only by parents, teachers, and children but also by the Department. Usec. Umali also mentioned the recently approved pilot testing of face-to-face learning to over 120 public and private schools around the country. He emphasized that the number of approved schools for pilot testing is very low compared to around 60,000 total public and private schools in the Philippines.
Usec. Tonisito M. C. Umali reiterated the need for the Brigada Pagbasa campaign as most children face struggles in the blended learning modality being implemented in schools all over the country. He also pointed out that lack of gadgets and difficulties in connectivity results in lack of learning among Filipino children. Usec. Umali shared the importance of DepEd's partnership with the World Vision Foundation in this campaign to ensure that children read and understand what they are reading.
E-Net Philippines President Flora C. Arellano extended her appreciation and gratitude to the Department of Education, through Secretary Leonor Magtolis Briones and Usec. Tonisito M. C. Umali, and all their partners and stakeholders who helped in the Brigada Pagbasa movement. She also emphasized that National Literacy Month is a reminder that an important aspect of the right to education is literacy and basic education. Prof. Arellano also said that literacy makes it easier for individuals to find employment and to perform well in any undertakings.
The LCC and its Secretariat fully support the Brigada Pabasa program and commend its organizers and implementers, for this convergence is indeed a strategic move to collectively advocate universalization of literacy, especially to socially disadvantaged learners and adults in the country.
Jonnabel D. Escartin