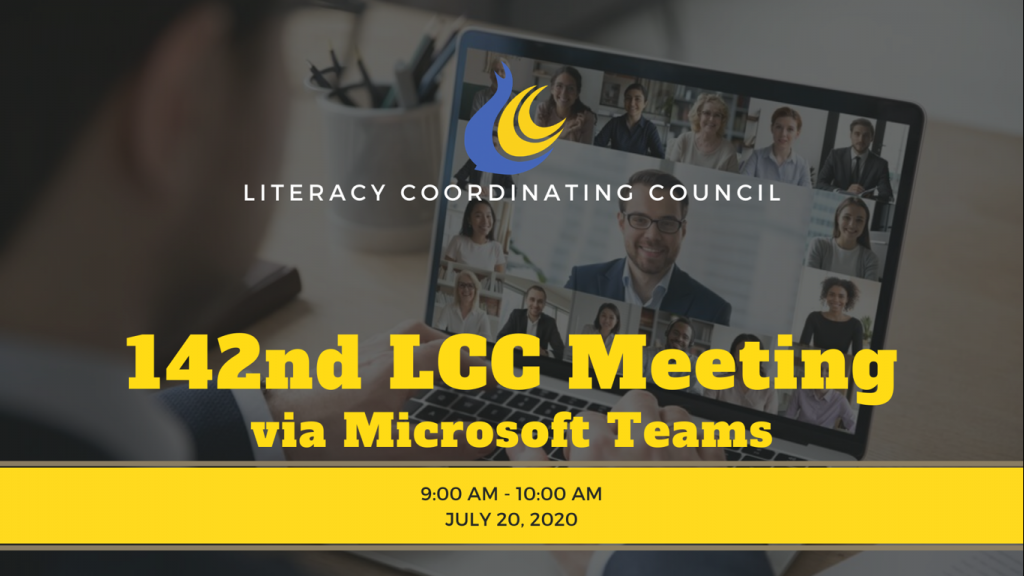 The second virtual Literacy Coordinating Council (LCC) Meeting via Microsoft Teams was held on July 20, 2020. Discussions for approval or deliberation included are the Minutes and Status of Agreements of the 141st Council Meeting; updates on the House Bill on the Revised LCC Law; LCC's Statement of Support to DepEd on Its Efforts on Literacy and Basic Education Continuity Amidst the Pandemic; and the Proposal to Create an Alternative Learning System (ALS) Council.
Comments and recommendations for further amendments on the Bill on the revised LCC Law from Council Member Agencies were consolidated and inputted accordingly, from the existing provisions as approved during the 141st Council Meeting to the revised provisions as of 20 July 2020. Also, the proposal to issue an official statement from the Council in support of DepEd's efforts on literacy and basic education continuity during this pandemic and beyond was also deliberated on, and will be very soon released to public. The videoconference was concluded by a discussion on a proposal to create an ALS Council.
LCC Chairperson Diosdado M. San Antonio, DepEd Undersecretary for Curriculum and Instruction, presided over the 142nd LCC Meeting attended by Council Members and Representatives Director Anna Liza F. Bonagua and Mr. Zaldy I. Masangkay of the Department of the Interior and Local Government (DILG); Mr. Adnan P. Ahmad of the Philippine Senate; Mr. Nemesio O. Malatamban III of the House of Representatives; Director Mryna Clara B. Asuncion and Ms. Susan M. Carandang of the National Economic and Development Authority (NEDA); Dr. Bert J. Tuga of the Philippine Normal University (PNU); Prof. Flora C. Arellano and Ms. May R. Cinco of the Education Network (E-Net) Philippines; and Ms. Melinda T. Quiñones of the Philippine Information Agency (PIA).