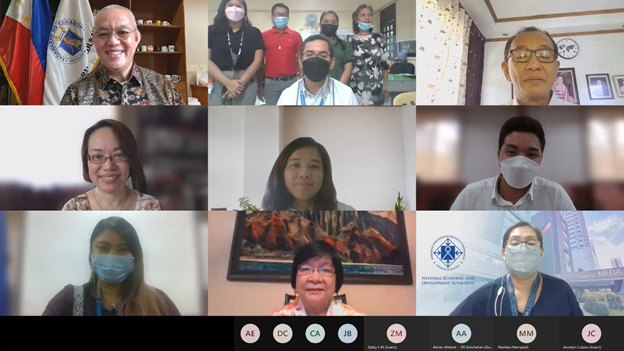 After its deferral last 2020 due to the threat of the COVID-19 pandemic, the Literacy Coordinating Council has finally commenced its preparatory measures for the conduct of the 2022 National Literacy Awards (NLA) that is set to be conducted in September. Regarded as the major program of the LCC under its Advocacy, Social Mobilization, and Partnerships' belt, the 2022 NLA is a biennial event that aims to honor and recognize outstanding individuals, institutions, local government units, and nongovernment organizations for their dedication, commitment, and contribution in eradicating illiteracy in their respective communities. To onboard members and ensure alignment within its member agencies, the LCC Secretariat had the privilege to present the guidelines of the NLA as stipulated in the DepEd Memorandum no. 22, s. 2022 on 2022 National Literacy Awards. This happened last March 29, 2022, during the Council's 149th LCC meeting. The specific parts highlighted are the objectives of the 2022 NLA, its categories, and processes involved in the whole conduct such as the nomination, regional selection, and national selection process. This was presented by Ms. Marikka P. Mampusti, focal person of the program.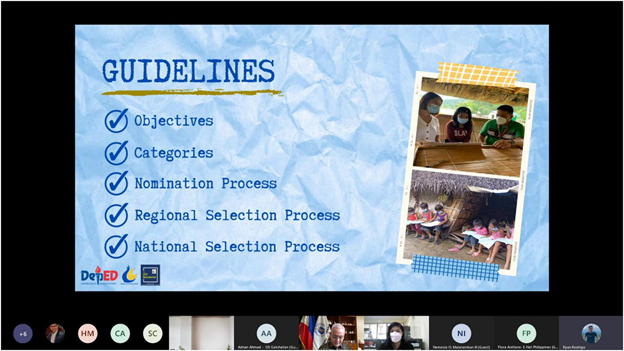 On top of the presentation of the guidelines, the nominated members of the Board of Judges who are responsible for the screening, evaluation, and onsite validation of regional NLA entries and selection of the national winners for each of the NLA categories have also received their approval from the Council.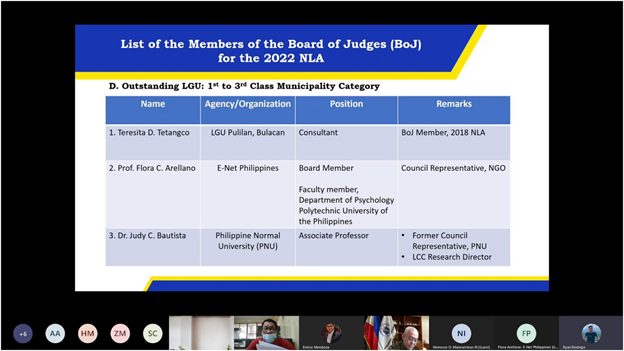 In line with its effort to make headway in ensuring the successful conduct of the NLA, the LCC Secretariat has committed to strengthening the dissemination of the program's information, education, and communication materials to boost the advocacy of the NLA and at the same time, stir up the interest and drive of the literacy champions all over the country to join the NLA.
Moreover, to guide our field personnel on the activities and procedures set forth in the DM 22, s. 2022, the LCC shall hold a national orientation on April 20-22, 2022 which specifically aims to (a) increase awareness on existing programs, projects, and activities of the LCC; (b) capacitate field personnel on the processes and documentary requirements needed to facilitate the nomination, selection, and validation of NLA entries efficiently and effectively; (c) build readiness and confidence of field personnel in spearheading pertinent activities for the 2022 NLA.
After the completion of the discussion on the other agenda items for the 149th LCC meeting, namely Status of Agreements from the 148th LCC meeting, presentation of LCC's FY 2022 Q1 Accomplishments and Q2 Activities, and approval of the LCC resolution on the adoption of the Manual on the Creation of Local Literacy Councils, the meeting was peacefully adjourned at 10:50 in the morning. For more information on the 2022 NLA, kindly read the DepEd Memorandum No. 22, s. 2022 at https://bit.ly/DM22S2022.
Marikka P. Mampusti
Project Development Officer II