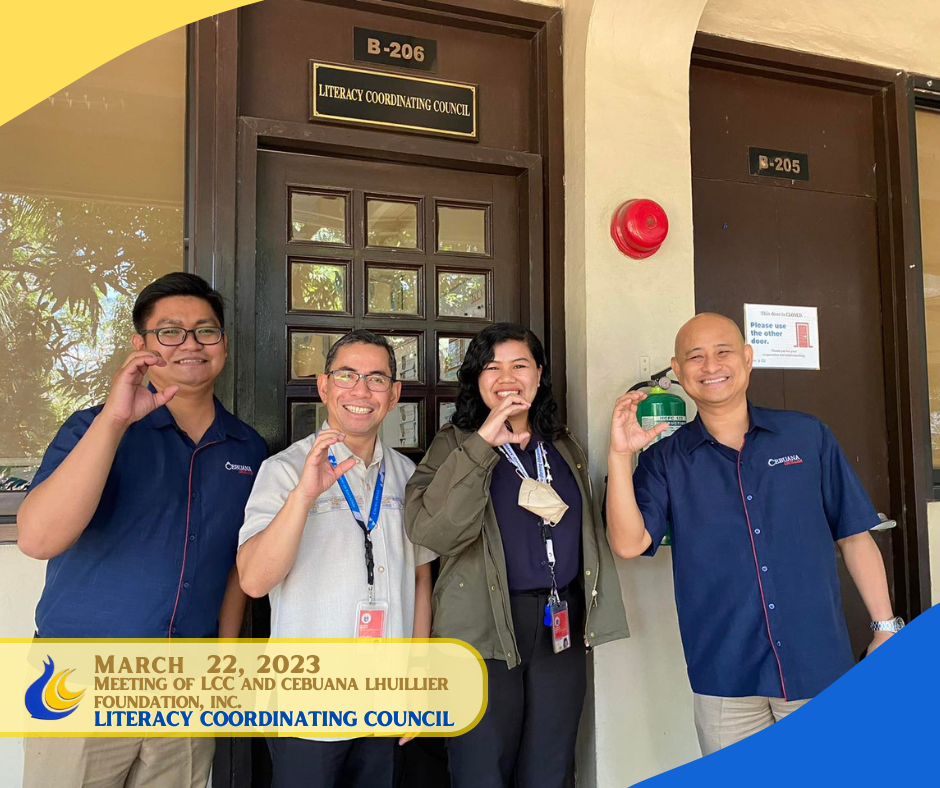 Driven by its mission to extend a helping hand in strengthening the advocacy of literacy, the Cebuana Lhuillier Foundation, Incorporation which has been one of the reliable and longest-standing partners of the Literacy Coordinating Council—being the official benefactor of cash prizes for the Special Award of Excellence in Literacy category of the National Literacy Awards, met with the LCC Secretariat last March 22, 2023 (Wednesday) to fortify its partnership and discuss existing and future areas of collaboration.
"We believe in multi-stakeholder collaboration to further promote inclusive education and literacy in the country, and we focus our resources on these advocacies among others," shared Mr. Jonathan D. Batangan, Executive Director of the CLFI, during the meeting. The said meeting was attended by Mr. Michael Joseph A. Torne, Mr. Enrico R. Mendoza, and Ms. Marikka P. Mampusti.

The LCC, being a coordinating body, puts forth on establishing meaningful and sustainable partnerships not only with government agencies but also with private organizations that relentlessly work on empowering and uplifting the lives of Filipinos through literacy. Being its main advocacy program, the National Literacy Awards underscores the importance of literacy in nation-building. It serves as an avenue for local government units and nongovernment organizations to have their best practices in literacy documented in the hopes that these will be institutionalized and replicated.
The CLFI commits to sustaining its advocacy on education and literacy and leads the private sector to intensify the support to LCC and continue to help the Department of Education in recognizing the award-winning initiatives of all LGUs, NGOs, and Civil Society Organizations. The LCC is thrilled to further strengthen the partnership between the two parties which will manifest in the 2024 National Literacy Awards.
More information on the existing programs of the CLFI are found at https://www.cebuanalhuillier.com/advocacies/ and other resources on literacy, specifically on financial literacy entitled Digital Iponaryo Module are found on the Partners Portal of the LCC website through the link https://lcc.deped.gov.ph/lr-partners-portal/.