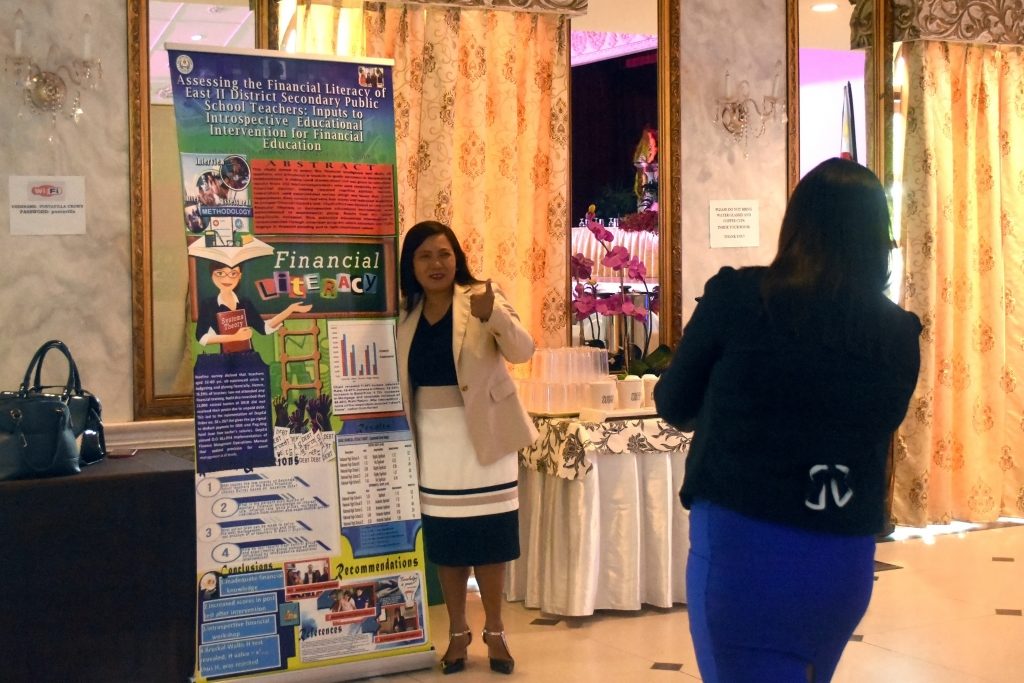 The Department of Education (DepEd), through the Literacy Coordinating Council (LCC), is currently conducting the 2019 National Literacy Conference as stipulated under the DepEd memorandum No. 064, series of 2019. With the theme "Aligning 21st Century Literacies to Industry 4.0 through Research," the conference aims to enhance implementers on the 21st Century Literacies, Industry 4.0 and Research on Literacy. Through this objective, one of the highlights of the event is the conduct of call for papers. The research studies currently presented in the conference from interested scholars, teachers, professionals and other researchers were ensured to have relevant policy recommendations about Inclusive Education, Literacy Learning and Instruction, Literacy Teacher Development, Literacy Program Development, and Literacy Governance. Below is the official list of poster presenters from different regions:
Title
Author

Region

Assessing the Financial Literacy of East II District Secondary Public School Teachers: Inputs to Introspective Educational Intervention for Financial Education
Grace C. Cueva

Rubie M. Salva

Mary Jean L. Sungahid

X

TALKHANGG : An Inter-agency Campaign Regulating Entry of Learners to Computer Shops during Class Hours (Talk with Heads of Agencies Needed for Good Governance)
Ms. Mary Joan J. Cajella

Margarita B. Enerio

William C. Agomana

Mauritia M. Donasco

Dinah Zoraida B. Zamora

Leah Lyn A. Lingatong

X

Competence of ALS Implementers in Utilizing Computers
Darel D. Caubang
Guiding Guardians to Read: Improving and Tracking Learners' Reading Performance with Parents and Guardians

Alexander Simagala

IV – A

Improving Pupils' Academic Performance Through Strategic Child Defender Approach
Nina U. Dumanon Leyson, PhD

Genevieve F. Fuentes

Simonette Y. Caylo

X

Utilization of Sci-Diary Worksheet as a Tool in Enhancing the Basic Science Process Skills: An After-School Extension Program

Nympha P. Rodriguez

X

Utilization of Localized Materials in ICT-Based Reading Intervention to Enhance Comprehension Skills of Selected Grade 10 Struggling Readers of Lakeview Integrated School (LIS)
Jay Boy E. Evano

NCR

Alternative Learning System Key Performance Indicators: Their Relationship to the Alternative Modes of Instruction
Noli B. Abrigo Jr., PhD

II
The above-mentioned literacy researchers were selected by the LCC Evaluation Committee based on certain criteria. There is also an exhibit for LGUs, academe, NGOs and DepEd as a platform for the exchange of experiences and good practices on literacy implementation. In addition to this, nine guests will also be presenting orally on the second day of the event.
The 2019 National Literacy Conference is currently happening today until October 10, 2019 at Punta Villa Resort, Arevalo, Iloilo City. The conference's participants are from DepEd's Central and Regional Offices and Schools Divisions, Local Government Units, and other Government and Non-Government Organizations.