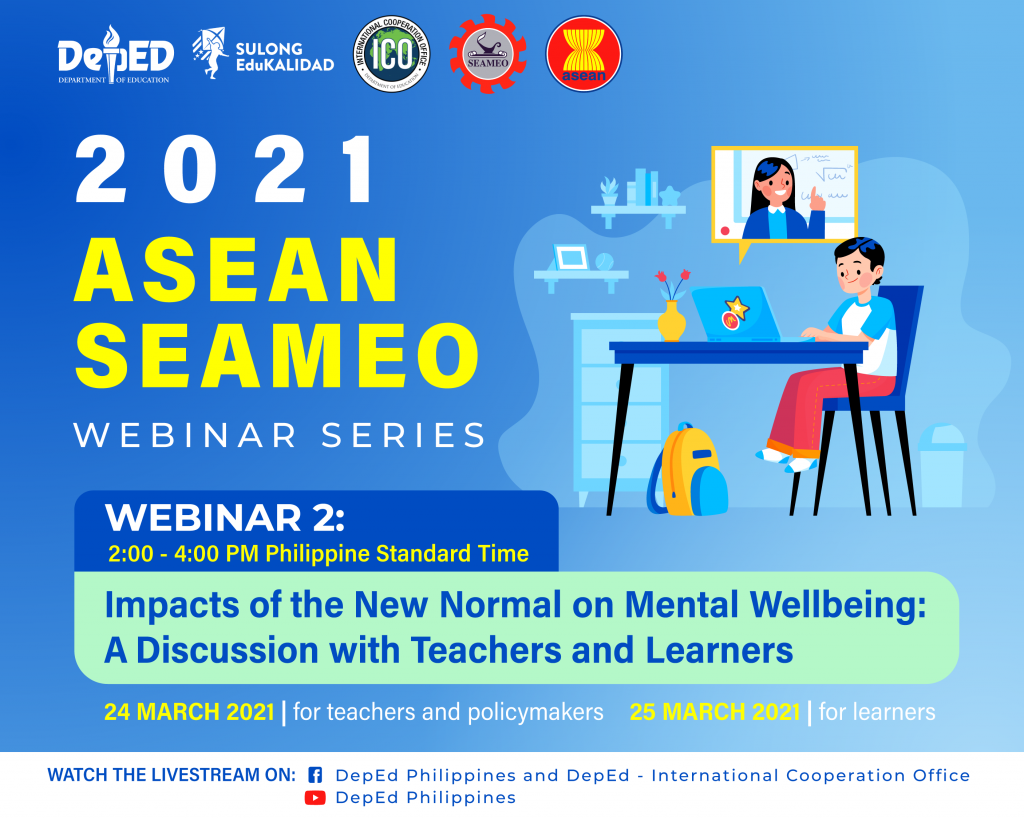 On March 24, 2021, the DepEd's International Cooperation Office (ICO) facilitated the first day of the second session of the webinar series of 2021 ASEAN and SEAMEO, with the theme "Impacts of the New Normal on Mental Wellbeing: A Discussion with Teachers and Learners" via DepEd-ICO and DepEd PH respective Facebook Pages.
The theme of the activity was in congruence to ASEAN Declaration on Culture of Prevention (CoP), Development of the ASEAN Work Plan on Education 2021-2025, and the SEAMEO 7 Priority Areas. The said event is also in line with Brunei Darussalam's theme for its ASEAN Chairmanship this 2021, "We Care, We Prepare, We Prosper."
During the Opening Program, it was emphasized by Director Margarita Consolacion C. Ballesteros of the DepEd-ICO that, "While policy recommendations are important for the education sector, the strategic shift in mental health policy is just as equal. In order for both sides to be successful, we must apply a whole-of-society approach to promote, protect, and care for the mental health of everyone. Building a community to provide support and conducting more research need to be part of the recovery and advocacy efforts as well."
Esteemed speakers for the said event included Mr. H.E. Kung Phoak, Deputy Secretary General for ASCC, ASEAN Secretariat; Mr. Mark Airon P. Creus, Principal of Juliano C. Brosas Elementary School, Division of General Trias City; Ms. Jenelle Babb, Regional Advisor on Education for Health and Wellbeing UNESCO Asia and the Pacific; Assoc. Prof. Vongdeuan Osay, Deputy Director General of the Department of Teacher Education, Ministry of Education and Sports, Lao PDR; Dr. Sandra B. Tempongko, Deputy Coordinator of SEAMEO TROPMED Network; Ms. Ronilda Co, Director IV of DepEd Disaster Risk and Reduction Management Service; and moderated by Mr. Angelito R. Cortez, Jr., RGC, Supervising Education Program Specialist from DepEd Bureau of Learning Delivery.
Among the discussions were the mental health issues experienced both by the teachers and learners during the transition to online and/or blended learning, impacts of the COVID-19, sharing of policies and initiatives proven to be effective in the local communities benefiting the learners, parents and teachers across select ASEAN countries, including the Department of Education in the Philippines.
The dialogue on the said webinar series will continue until tomorrow, March 25, 2021 which is still to be broadcasted in DepEd-ICO's and DepEd PH's Facebook Pages. Anticipated topics to be covered are the continuation of the impacts of the COVID-19 pandemic and blended learning on the mental health of learners, recommended coping mechanisms, and sharing of experiences relative to mental wellbeing of teachers, parents and learners.
The LCC Secretariat ensures to participate in national meetings and webinars which tackle crucial issues and concerns in the country such as the mental health of teachers, parents and learners amidst the COVID-19 pandemic. By doing so, it broadens the Council's perspective allowing it to come up with relevant policy recommendations in a holistic approach.