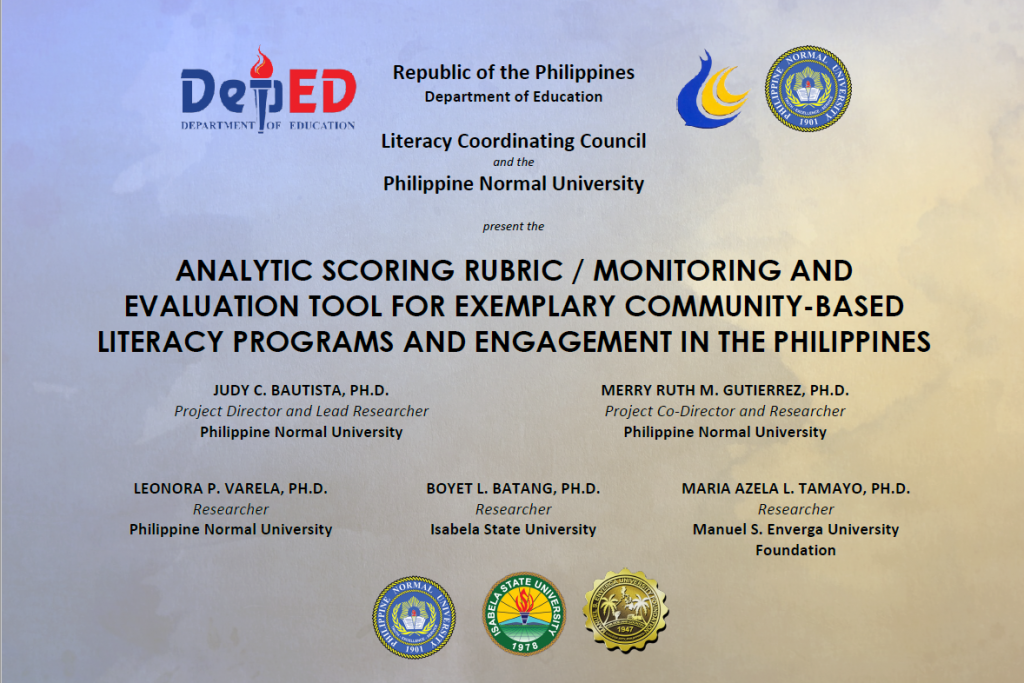 Following the success of the conduct of the 143rd Council Meeting held on October 22, 2020, the Philippine Normal University (PNU) through one of its lead researchers for LCC, Dr. Judy C. Bautista, has officially endorsed to the LCC Secretariat the Analytic Scoring Rubric/Monitoring and Evaluation Tool for Exemplary Community-Based Literacy Programs and Engagement in the Philippines. The said tool is based on the two research studies conducted by the Council through the PNU entitled "Foundational Framework for the Exemplary Community-Based Literacy Programs and Engagement: Basis for Policy Development (2019)" and "Validation of the Foundational Framework for Exemplary Community-Based Literacy Programs and Engagement (2020)."
The said M&E tool or analytic scoring rubric describes the standards and indicators for an exemplary community-based literacy program. Being evidence-based, the tool has the following components: 1) Manifests Quality Management and Leadership; 2) Has Legal Bases; 3) Utilizes Strategic Implementation; 4) Articulates an Aligned Vision, Mission, Goals, Objectives, and Agenda; 5) Forges Inter-agency and Inter-stakeholder Partnership and Collaboration; 6) Possesses Effective and Efficient Resource Management; 7) Administers Efficient and Regular Monitoring and Evaluation System; 8) Is Data-Driven and Is Designed based on Data-Analysis; 9) Uses Information Dissemination Strategies; and 10) Manifests Complete Documentation of Activities. Each standard contains relevant indicators and achievement progressions categorized as: 1) Beginning; 2) Emerging; 3) Accomplished; and 4) Exemplary, the latter being the highest benchmark of community performance.
The Department of Education shall issue an Order to encourage the operationalization of the framework and adoption of the tool among the Alternative Learning System teachers, Local Government Units, and Civil Society Organizations in the country implementing literacy programs at the grassroots level. By doing so, a breakthrough is expected to take place in literacy at the local communities bringing everyone closer to its universalization.