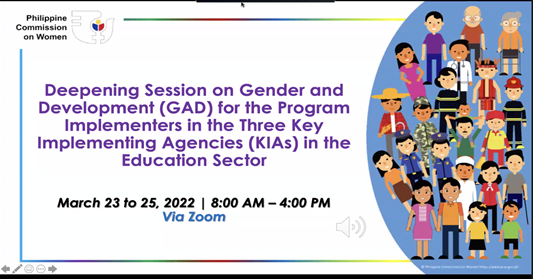 The Philippine Commission on Women (PCW), in line with its provision of proactive technical assistance to the education sector, conducted a Deepening Session on Gender and Development for Program Implementers on March 23-25, 2022 held via Zoom. The session's objective is to level off the understanding of participants on GAD concepts and core messages to increase the capacity in promoting GAD in their area of jurisdiction. This online session was participated in by the Three Key Implementing Agencies (KIAs) from the PCW, DepEd and TESDA.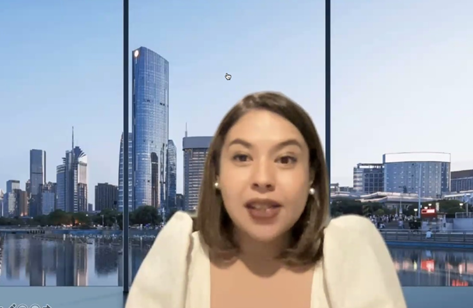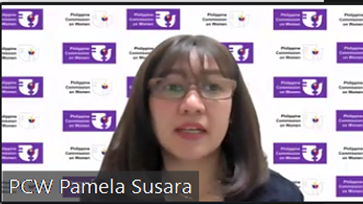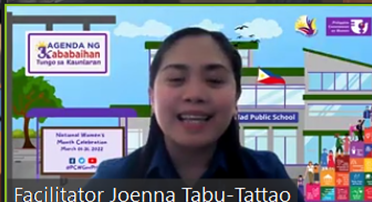 A non-graded pre-test was administered by Ms. Joenna Tabu-Tattao, PCW Resource Person, to determine level of knowledge of participants on basic GAD concepts, GAD and mandates, gender mainstreaming and gender-based violence.
The GAD online training session seeks to achieve gender equality as a fundamental value. Government agencies are urged to have a GAD program to which at least 5% of their General Appropriations Act (GAA) total budget should be allotted.
LCCS and other education stakeholders' participation in this activity will increase appreciation on gender mainstreaming as a strategy in achieving a gender fair education and understand GAD mandates and its relevance to education sector.
Czarina D. Abellonar
Project Development Officer III