The Philippine National Volunteer Service Coordinating Agency (PNVSCA) facilitated a webinar entitled Public Sector Volunteerism: Luzon in Focus on July 28, 2021 from 1:30 p.m. to 4:30 p.m. via Zoom Teleconference.
The teleconference, which was participated in by LGUs around Luzon, government agencies, as well as government-owned and controlled corporations (GOCCs), discussed various topics such as basic concepts on volunteerism, public sector and volunteerism, and good practices of public sector organizations.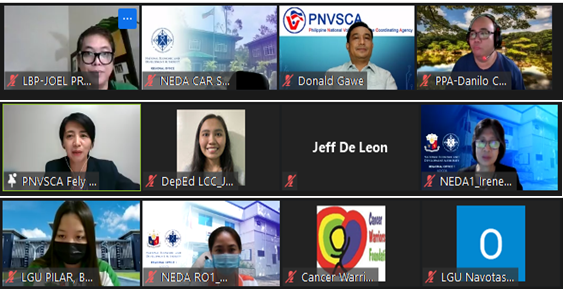 National Economic and Development Authority (NEDA) Region I Regional Director Nestor Rillon shared his welcome message, followed by a keynote message delivered by Union of Local Authorities of the Philippines (ULAP) President Gov. Dakila Carlo E. Cua through a recorded message. Gov. Cua discussed the essence of Filipino volunteerism, sighting community pantries and Filipino bayanihan during the time of pandemic and calamities. He also emphasized the need for a regular consultation and collaboration by local governments to achieve a common goal.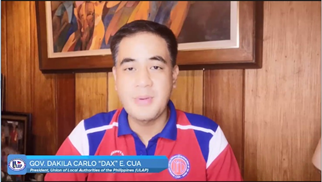 Ms. Fely Baday, OIC-PATSD of the PNVSCA discussed the importance of their agency, including calls for the integration of volunteerism as part of the curriculum in basic and higher education to raise consciousness of the youth and develop the culture of volunteerism among citizenries. She also highlighted their advocacy efforts to encourage and assist LGUs, NGAs, and GOCCs to set up their volunteer programs.
The webinar aimed to increase awareness on volunteerism and the role and programs of PNVSCA as the government focal agency for volunteer services in the country; identify possible facilitating factors/key players that will help in pushing the initiatives, and hindering factors that need to be addressed; express commitment to facilitate in harnessing the enabling environment for volunteerism in their respective organization/community; and advocate the mainstreaming of volunteerism in their agency plans and programs and the establishment of agency volunteer group and/or designation of a VFP.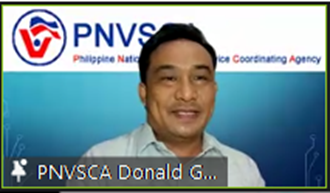 PNVSCA Executive Director Donald James Gawe provided an overview of volunteerism, its types and forms as well as its policy framework. ED Gawe emphasized that volunteerism is a form of activity which involves spending time, unpaid, and doing something which aims to benefit someone. He also summarized the Republic Act 9418 or an Act on Volunteerism, meaning this is a free will and no compulsion. He has also sighted that religion, community concerns, and personal development are the various reasons why people chose to volunteer.
Mr. Mark Anthony Malitan, from the Civil Service Institute of the Civil Service Commission talked about the importance of the public service values for transformation. He emphasized that shared values serve as the life force of an organization. He also added that CSC values Patriotism, Integrity, Excellence, and Spirituality, wherein he discussed the meaning of each value in workforce thoroughly. Mr. Malitan mentioned the Public Service Values Program of the CSC, where he presented the activities under that program. He also urged everyone to collaborate and work as one.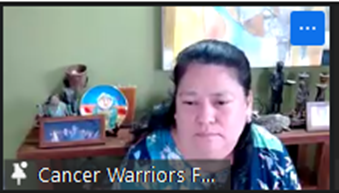 President and co-Founder of the Cancer Warriors Foundation Ms. Carmen Auste discussed how the foundation started by her family and how her family's life changed since her son is a cancer survivor. She shared their experience of being a volunteer and the importance of being a volunteer at any time, and not just during the pandemic. Ms. Auste also proudly shared that the World Health Organization has recognized the Cancer Warriors Foundation.
LGU representatives shared their experience in volunteering during the open forum session. They emphasized that there are challenges during the time of the pandemic and encouraged everyone to volunteer if they have time.
Participating in this kind of webinar enables the LCC Secretariat to broaden its perspective on the spirit of Filipino volunteerism, which we can apply in our advocacy of universalizing literacy in the country.
Jonnabel D. Escartin