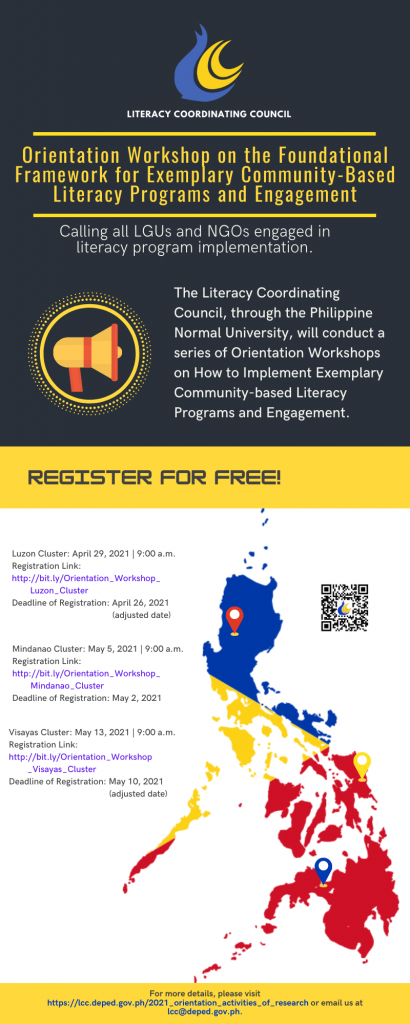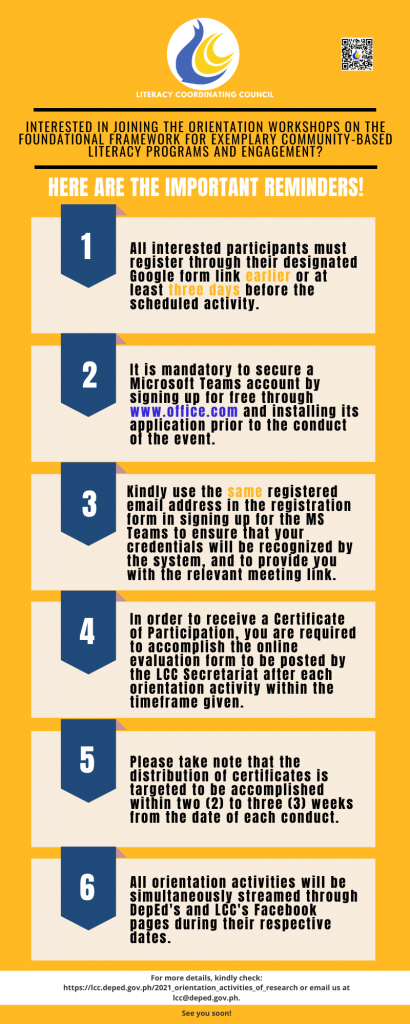 As a response to LCC's mandate on policy formulation, through Dr. Judy C. Bautista of the Philippine Normal University, and his research teams, conducted the Research Study on the Foundational Framework for the Exemplary Community-Based Literacy Programs and Engagement through its Phases I, and its Validation during the Phase II in 2018 and 2019, respectively. As a result, the LCC was able to come up with a foundational framework, and analytic scoring rubric which will both serve as guides to every Local Government Unit (LGU) in the country in establishing, and monitoring and evaluating exemplary community-based literacy programs and projects.
During the 143rd LCC Meeting held on October 22, 2020 via Microsoft Teams, it was agreed upon that a DepEd Order policy shall be crafted for the national adoption of the said research outputs. As part of the next steps, the research team is also opt to provide a series of orientations to the whole country in preparation for the implementation of the relevant policy.
In connection with this, the LCC has prepared orientation activities for Clusters Luzon, Mindanao and Visayas on April 29, May 5 and May 13, 2021, respectively. The target participants for the said activities are the focal persons of various LGUs and Nongovernment Organizations (NGOs) on literacy, especially those which actively participate and partner with the local communities.
The said nationwide orientation activities aim to: 1) capacitate the local chiefs and focal person of literacy at the local level on establishing exemplary community-based literacy programs in their respective communities; 2) orient the concerned key persons on literacy on the rubric to be adopted for the monitoring and evaluation of community-based literacy programs and engagement; and 3) strengthen partnership and linkages among various literacy stakeholders.
All interested participants must register through their designated Google Form link found below, earlier or at least three (3) days before the scheduled activity. It is also mandatory to secure a Microsoft Teams account by signing up for free through www.office.com and installing its application prior to the conduct of the event. It is important to use the same registered email address in the registration form in signing up for the MS Teams to ensure that the participants' credentials will be recognized by the system, and to provide them the relevant meeting link. In order to receive a Certificate of Participation, the participants are required to accomplish the evaluation form to be posted by the LCC Secretariat after each orientation activity within the timeframe given. Please take note that the distribution of certificates is targeted to be accomplished within two (2) to three (3) weeks from the date of each conduct. All orientation activities will be simultaneously streamed through DepEd and LCC's Facebook Page during their respective dates.
For queries and more information, your staff may contact Ms. Jem Beryline S. Bualat, Project Development Officer II, via e-mail addresses: jem.bualat@deped.gov.ph and/or lcc@deped.gov.ph.
SCHEDULE OF ORIENTATION ACTIVITIES:
Luzon Cluster: April 29, 2021 | 9:00 a.m.
Registration Link: http://bit.ly/Orientation_Workshop_Luzon_Cluster
Deadline of Registration: April 26, 2021 (adjusted date)

Mindanao Cluster: May 5, 2021 | 9:00 a.m.
Registration Link: https://bit.ly/Orientation_Workshop_Mindanao_Cluster
Deadline of Registration: (May 2, 2021)

Visayas Cluster: May 13, 2021 | 9:00 a.m.
Registration Link: https://bit.ly/Orientation_Workshop_Visayas_Cluster
Deadline of Registration: May 10, 2021 (adjust date)