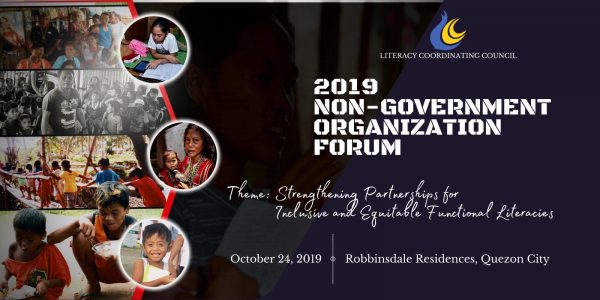 Program

Presentations

About LCC-NGO Forum

Announcements

Documentation
Presentation
Attachment
Highlights/Salient Points
Speaker/Resource Person
Plenary Session I: Policies and Programs for Inclusive and Equitable Literacies

Updates and Potential of ALS 2.0
Ms. G.H. Ambat
Assistant Secretary
Department of Education

Plenary Session I: Policies and Programs for Inclusive and Equitable Literacies

ALS-EST Pilot Program
Ms. Merlie Asper
Executive Assistant V
Office of the Secretary

Mr. Justine Bernabe
Executive Assistant II
Office of the Secretary

Plenary Session II: Sharing of Good Literacy Practices:

Adult Learning and Education in the context of Global Report on Adult Learning and Education
Mr. Ramon Mapa
Board Member, E-Net Philippines

Plenary Session II: Sharing of Good Literacy Practices:

HEAL Program: A Hall of Fame Awardee for Outstanding Literacy Program (IP, Madrasah and PDWD
Dr. Ephraim Pitogo
President, SULADS

Plenary Session II: Sharing of Good Literacy Practices:

Innovatioin ALS: Lakas Experience
Mr. Lito T. Jugatan
President, LAKAS

Literacy Coordinating Council
LCC-NGO FORUM 2019
CSO-LGU Partnerships:
Theme: Strengthening Partnerships for Inclusive and Equitable Functional Literacies
October 24, 2019 ; Robbinsdale Residences, #14 G. Araneta Avenue
cor. Palanza Street, Quezon City
Background
There are 20.7 million Filipinos who have not completed basic education. Less than tenth (1.4million) of them are of basic education age because 19 million are belong to adults age bracket.
However, there are 3.5 million of the population who are considered out-of-school children and youth, 66 percent of them are from poor families. This represents 9.1% of the 39 million population aged 6-24 years old (APIS). The top four main reasons for not being in school are marriage/family matters (37%), lack of personal interest (24.7%), high cost of education/financial concern (17.9%), and employment/looking for work (8.4%).
To address the issue of out-of-school education, Secretary Leonor Magtolis Briones included the strengthening of ALS program in her declaration of vision and agenda for the Department of Education. The objective is to reach out to out-of-school children, youth and adult who were not able to complete basic education.
These are a great effort in realizing the Sustainable Development Goals (SDGs), particularly goal 4, on inclusive, equitable and quality education for all and promote lifelong learning. Among the ten (10) targets for quality education, the Goal 4.6 states that by 2030, ensure that all youth and substantial portion of adults, both men and women, achieve literacy and numeracy; and Goal 4.4 states that by 2030, substantially increase the number of youth and adults with relevant skills, including technical and vocational skills, for employment, decent jobs and entrepreneurship.
To harness the work of NGOs in promoting literacy, the LCC-NGO Forum is being organized annually. This year, the focus will be in on Inclusive and Equitable Functional Literacies for All to strengthen partnerships in realizing the goal for leaving no one left behind. The theme of this year's forum is "Strengthening Inclusive and Equitable Functional Literacies."
Forum Objectives
The forum aims to:
The 2019 LCC-NGO Forum aimed:
1) Establish, strengthen, and sustain partnerships with NGO community involved in literacy work.
2) Provide a venue for sharing of good practices in promoting functional literacies, especially reaching the unreached.
3) Discuss and firm up proposal to formalize LCC-NGO Forum as a regular platform for LCC-NGO collaborative mechanism in promoting literacy; and
4) Come up with policy recommendations for ensuring inclusive and equitable
functional literacies for all Filipinos.
Forum Outputs
The forum is expected to generate:
Updated database of NGOs providing literacies;
Policy recommendations to ensure inclusive and equitable functional literacies for all Filipinos;
Agreement by NGO communities to formalize LCC-NGO forum as a regular platform for LCC-NGO collaborative mechanism.
Target Participants
The participants for this forum are mostly civil society organizations, non-government organizations, foundations, private sectors, academe and member agencies of the Literacy Coordinating Council (LCC). It will target 100 participants including LCC member representatives and partners. Participants are selected based on the criteria below. The criteria for the selection of participants are as follows:
High interest in universalizing literacy
Active engagement with LGU and Department of Education
Capacity to engage government and deliver literacy programs
With programs that promote functional literacy
A. FACILITATORS AND WORKING COMMITTEE:
LCC SECRETARIAT:
COUNCIL MEMBERS AND REPRESENTATIVES:
Zaldy I. Masangkay, Susan M. Carandang, Addie T. Unsi, Edicio G. Dela Torre, May M. Cinco and Merzi Florencia T. Chan
Usec. Diosdado M. San Antonio, Dr. Juan C. Obierna and Aly Medalla
B. RESOURCE PERSONS:
Flora C. Arellano, Aurea Jean A. Abad, Merlie J. Asprer, Ramon G. Mapa, Dr. Ephraim Pitogo, Lito T. Jugatan and Geomel P. Jetonzo