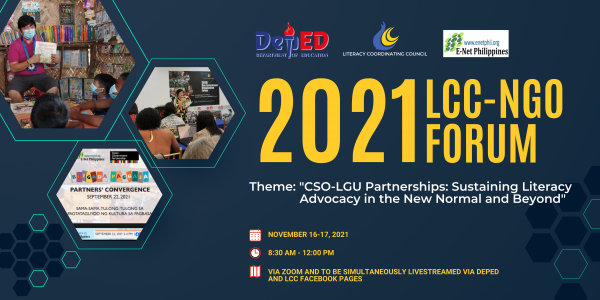 Program

Presentations

About LCC-NGO Forum

Announcements

Documentation
Literacy Coordinating Council
LCC-NGO FORUM 2021
CSO-LGU Partnerships:
Sustaining Literacy Advocacy in the New Normal and Beyond
November 16-17, 2021; via Zoom
Background
The pandemic has been a reminder of the critical importance of diverse literacies – digital and information literacy, health literacy, literacy embedded in practical skills training, livelihood and income-generating activities, parents' literacy, and education to be able to support their children's learning, ALE among others. Beyond its intrinsic importance as part of the right to education, literacy empowers individuals and communities, enabling them to navigate through the challenges of a rapidly changing world.
For literacy to contribute to building a solid foundation for a human-centered recovery within and beyond the context of the pandemic, it is necessary to sustain and advocate for literacy programs which are responsive to the needs and contexts of individuals and communities "within the framework of lifelong learning". Literacy can only unfold its full potential to "transform our world" if it is conceptualized and operationalized from a lifelong learning perspective.
Civil society organizations (CSOs), people's organizations (POs) and local communities have done an immense amount of work in uplifting the education of disadvantaged groups like the Indigenous Peoples, Moro people, Persons with Disabilities, children and adults in disaster- affected and conflict areas, children/youth and adults in both rural and urban poor communities.
Literacy programs and activities by CSOs address literacy in combination with the development of other skills and competencies. They can be classified as education, training, entrepreneurial and livelihood, leadership, citizenship education and life skills literacy programs and are innovative, participative and learner centered.
The creativity and innovativeness the CSOs/POs have done and continue to do in enriching literacy programs are practices which can be multiplied and scaled-up, making such programs accessible. Sadly, much of the innovation and good practices rarely find their way into mainstream policy and practice. And on their own, lack of adequate funding limits their capacity to expand the scale of the program. There is also little information sharing about CSOs/Pos various literacy initiatives.
The national government, local government units and CSOs/POs must continue to work closely to promote and advocate for literacy in a lifelong learning perspective - in developing literacies which are relevant to the realities, circumstance and contexts of people and communities. Policies, programs and long-term investments need to be ensured to make "literacy in a lifelong learning perspective" inclusive and accessible to all. Forum Theme CSO-LGU Partnerships: Sustaining Literacy Advocacy in the New Normal and Beyond.
Forum Objectives
The forum aims to:
1) Provide a venue for sharing of good practices and innovations in literacy advocacy within the framework of lifelong learning.
2) Broaden CSO-LGU partnerships to sustain literacy advocacy in the new normal and beyond.
3) Develop evidence-based policy recommendations gathered from various literacy stakeholders.
Target Participants
Civil Society Organizations
Education Network (E-net) Philippines
LCC Members/Representatives
TWG and LCC Secretariat
Registration: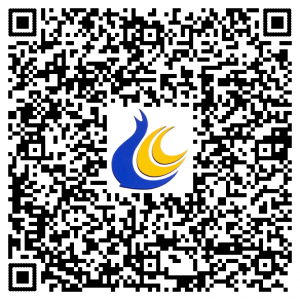 Participants can register here or scan the QR Code: https://bit.ly/LCCNGOForum
No registration fees will be collected in this virtual program. The meeting link will be provided to the officially registered participants prior to the conduct of the  event.
All other registered participants will also be accommodated via Facebook Live on DepEd, LCC, and E-Net's official Facebook pages on November 16-17, 2021
Note:
For more information, please contact: Ms. Marikka Mampusti, Project Development Officer II of the LCC Secretariat, 2nd Floor, Bonifacio Building, Department of Education Central Office, DepEd Complex, Meralco Avenue, Pasig City at telephone nos. (02) 8631-0579, (02) 8631-0567, and (02) 8635-9996 or mobile phone nos. 0995-677-8591 and 0932-579-1236.