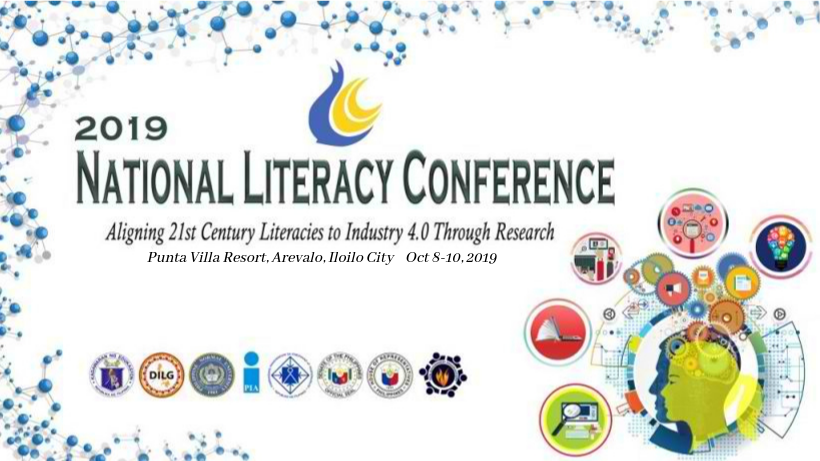 Evaluation Form
Note: If you cannot view the evaluation form above, you may also complete the evaluation form by visiting this website:
tinyurl.com/FeedbackNLC
Program
Presentations
About NLC
National Literacy Conference
In celebration of the annual Literacy Week as stipulated in Presidential Proclamation No. 239 entitled Declaring the Period from September 2 to 8 of Every Year as Literacy Week, the Department of Education (DepEd), through the Literacy Coordinating Council (LCC), in cooperation and coordination with other government organizations (GOs), local government units (LGUs), private organizations (POs) and nongovernment organizations (NGOs), will hold the 2019 National Literacy Conference with the theme "Aligning 21st Century Literacies to Industry 4.0 Through Research," from October 8-10, 2019 in Arevalo, Iloilo City.
The Conference aims to:
a. enhance education leaders and workers' knowledge on the 21st Century Literacies, Industry 4.0 and research on literacy;
b. present research studies on the 21st Century Literacies;
c. appreciate stakeholders' participation in literacy governance;
d. gather policy recommendations relevant to the literacy research agenda; and
e. provide a platform for the exchange of experiences and good practices on literacy implementation.
Participants of this conference are:
Agency or Organization

Expected Participants

No. of Participants

DepEd

Regional Directors or

Assistant Regional Directors

17 (one per region)

Regional NLA Coordinators or

Regional ALS Focal Persons

17 (one per region)

Schools Division Superintendents or Assistant Schools Division

34 (two per region)

Division Supervisors of ALS and

Formal Education

34 (two per region)

Education Program Specialist for

ALS (EPSA)

34 (two per region)

Full-time District ALS Coordinators

34 (two per region)

ALS Mobile Teachers

68 (four per region)

DILG

LGU Officials (Mayor or Vice Mayor) actively implementing literacy programs

51 (three per region)

Barangay Chairperson actively involved in the universalization of literacy

34 (two per region)

Other Government and Non-Government Organizations

Society Organizations (CSOs) including NGOs involved in literacy implementation

34 (two per region)

Heads and members of partner academic institutions

17 (one per region)

Researchers from Public and Private Higher Education Institutions

68 (four per region)

 

Total

442 Participants (26 participants per region)