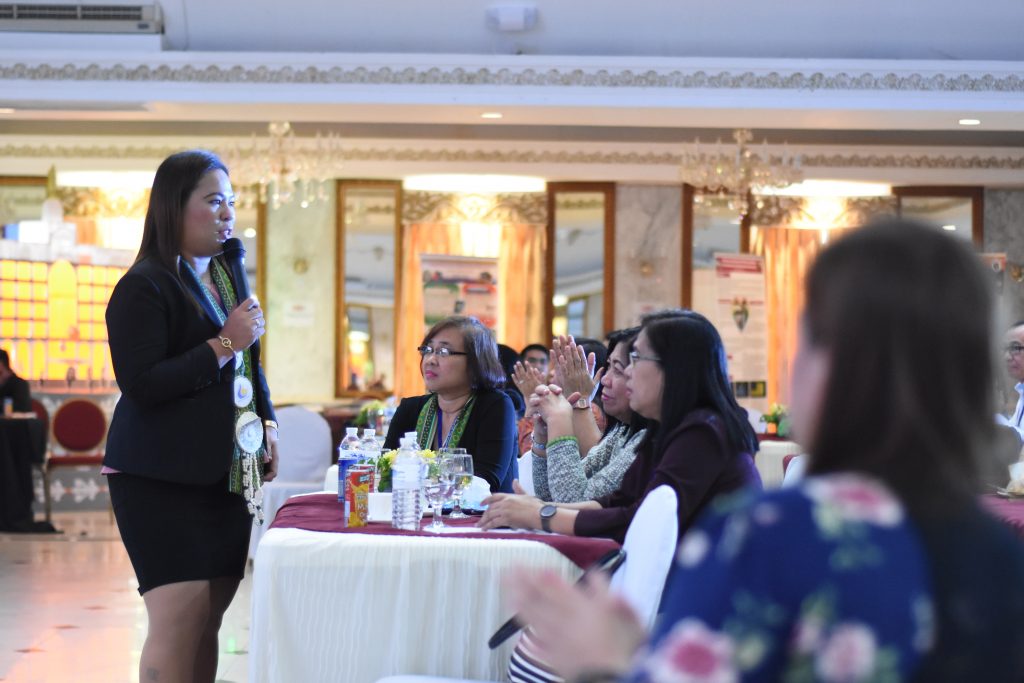 To officially begin the second day of the event, Jaro National High School Singing Trio entertained the participants with a production number. Dr. Merry Ruth M. Gutierrez, Professor III of the Philippine Normal University, discussed the Foundational Framework for Exemplary Community-based Literacy Programs and Engagement as Basis for Policy Development. This is in cognizance and response to the mandate of Literacy Coordinating Council (LCC) as a policy-making body for literacy, wherein PNU is an active member who spearheaded the said research project to develop a framework as standard for exemplary community literacy programs. This framework will also serve as a Monitoring and Evaluation tool for every community literacy program, and as a legal basis research-based database for national and local policies. She also disseminated instruments to validate the standards and performance indicators of the developed framework which was the result of a grounded theory research conducted last year by the proponents, to wit: Judy C. Bautista, Ph.D., Project Director and Lead Researcher; Merry Ruth M. Gutierrez, Ph.D., Project Co-Director; and Co-Researchers Heidi B. Macahilig, Ph.D., Sammy Q. Dolba, MA, and Al Ryanne G. Gatcho, MA.
Moreover, DepEd, through the LCC, facilitated the Call for Papers as a venue for presentation of the researches conducted on "Community-based Literacy Programs" and other literacy-related research studies. These studies were selected by the LCC Evaluation Committee based on criteria, assessing that they have relevant literacy policy recommendations on Inclusive Education, Literacy Learning and Instruction, Literacy Teacher and Program Development, and Literacy Governance.
The following are the list of winners on the Call for Papers. These researchers presented their research orally:
Title
Author
Region
Project ASPIRE: Active Stakeholders Participation and Involvement in Reading Enhancement of the Learners
Dr. Carnila D. Simacon
X
Attitudes, Awareness and Skills of Public School Teachers Towards Inclusive Education
Dr. Michael E. Ecoben
X
Assessment of Reading Anxiety and Oral Reading Fluency of Grade 11 Students: Towards Intervention Development
Ms. Jane Charity Estrada-Madronero
X
The Extent of Bullying to Alternative Learning System (ALS) Learners
Ms. Florena M. Deuna
The Teaching of Mother Tongue as a Separate Subject: The Case of Marinduque Tagalog
Dr. Annalyn Jawili-Decena
NCR
A Comprehensive Approach Towards Functional Literacy for the Marginalized: The Case of Butuan City
Mr. William Christian P. dela Cruz
CARAGA
Workplace Literacy among In-Service Teachers
Dr. Maria Azela Lopez-Tamayo
IV-A
Flipped Classroom: An Instructional Strategy in Increasing the Performance of Hearing-Impaired Students in Science
Ms. Hasima N. Salic

Ms. Amor C. Fajardo

Ms. Mariz Lynne C. Lao

Mr. Wilbert P. Docdoc

X
Financial Capability of Public School Teachers in the Philippines
Mr. Jerick C. Ferrer
NCR
These authors, together with the poster exhibitors, were recognized by the Literacy Coordinating Council members and Cebuana Lhuiller Foundation, Inc. during the awarding ceremony on LCC Call for Papers.  Through their implications, Mr. Nemesio O. Malatamban III, Supervising Legislative Officer II of the House of Representatives, integrated a synthesis of policy recommendations. Before the synthesis, the Jalandoni Memorial National High School amused the participants with their performance of the Dinagyang dance, a religious and cultural dance of Iloilo City. DILG Assistant Regional Director Maria Calpiza J. Sardua concluded the event with her closing remarks.