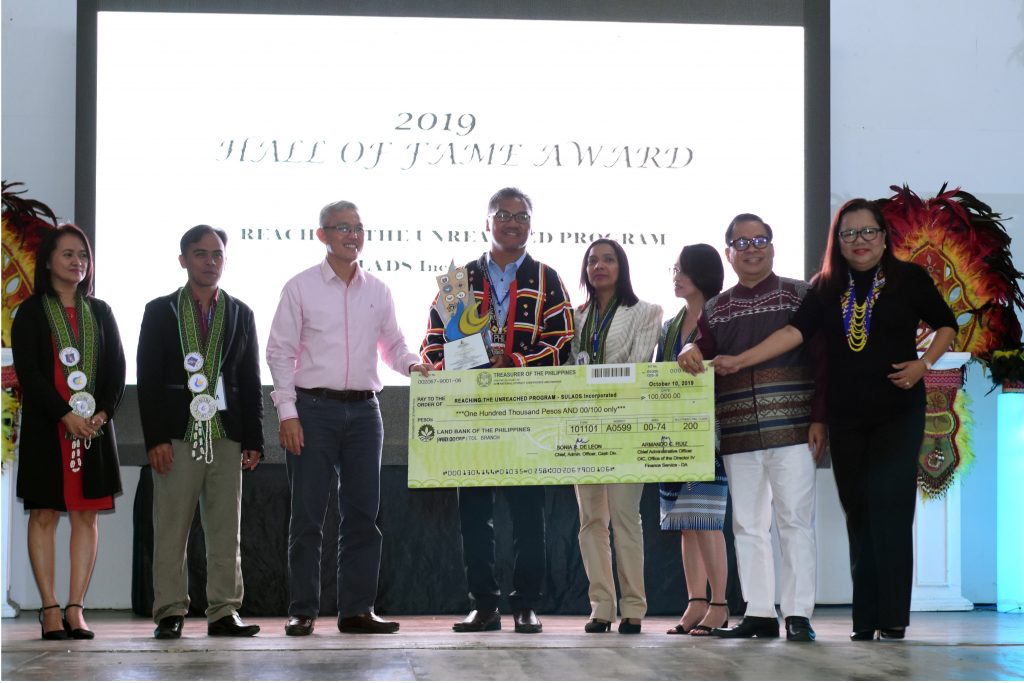 This October 9, the 2019 National Literacy Conference with the theme, "Aligning 21st Century Literacies to Industry 4.0 through Research," officially commenced through an Opening Program. The Entrance of Colors was executed by Ramon Avaceña National High School, followed by the singing of the Philippine National Anthem performed by the Iloilo City National High School Chorale. An Interfaith Prayer was invocated by Ms. Leila G. Valencia, Education Program Supervisor of the DepEd Iloilo City Division. Mr. Alfredo Villanueva, Executive Assistant IV of Deped Region VI, warmly welcomed the 2019 NLC Participants. Meanwhile, Ms. Ma. Gemma M. Ledesma, Regional Director of DepEd Region VI, delivered her welcome remarks and acknowledged the resource speakers and other Regional Directors, as well as the Assistant Regional Directors. After the delivery of remarks, LCC Secretariat Chief Enrico R. Mendoza stated the Rationale of Activity and introduced the participants per region. NEDA Director Maryanne E. R. Darauay introduced the keynote speaker Diosdado M. San Antonio, DepEd Undersecretary for Curriculum and Instruction and Chairperson of LCC. According to Usec. San Antonio, the challenge to teachers is to "go beyond the traditional notion of what a literate person is, [not only] one who is able to read and write, but to be equipped with Industry 4.0 skills."
Dr. Alfredo E. Pascual, former President of the University of the Philippines and current President of the Institute of Corporate Directors, and Dr. Sherlyne A. Acosta, Educational Research Unit Head of SEAMEO-Innotech, talked about the "Prospects and Challenges on Literacy for Industry 4.0 and the Literacy Research Agenda." These were followed by the discussions on "Aligning Research on Pedagogies vis-à-vis 21st Century" and "Strengthening Participation of Stakeholders in Literacy Governance," which were tackled by Dr. Allan B. De Guzman, University of Santo Tomas Professor, and Anna Liza F. Bonagua, DILG Director of Bureau of Local Government Development, respectively. John Arnold S. Siena, Director IV of the National Educators Academy of the Philippines, Teacher Education Council Secretariat's Executive Director Runvi V. Manguerra, and Dr. Gina O. Gonong, PNU Director for Research Center joined the panel discussion on "Capacitating Literacy Educators and Workers." Said discussion was facilitated by Mr. Addie T. Unsi of E-Net Philippines.
Highlighting Day 1 of the 2019 NLC was the awarding of LCC's Hall of Fame for Outstanding Literacy Program. The Hall of Fame Award was received by the Socio-economic Uplift Literacy Anthropological and Developmental Services (SULADS, Inc.), receiving a cash prize worth Php 100,000 and a Hall of Fame trophy. Dr. Ephraim L. Pitogo, President of SULADS, Inc., delivered his acceptance speech and appreciated DepEd and LCC for their overwhelming support and undying recognition of their program. SULADS, Inc., a non-government organization reaching out to indigenous people, is a three-time first place winner in the LCC's National Literacy Awards.