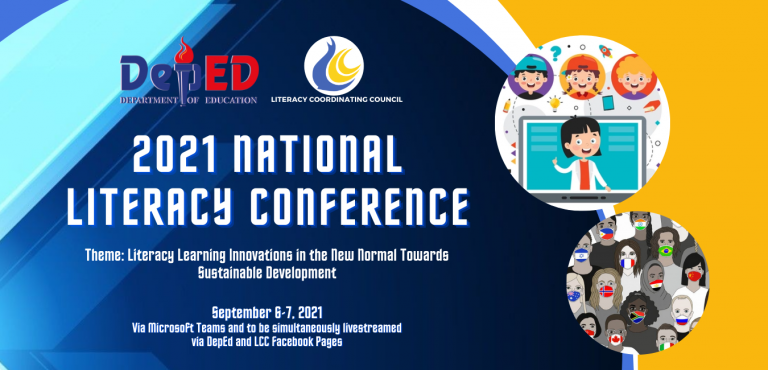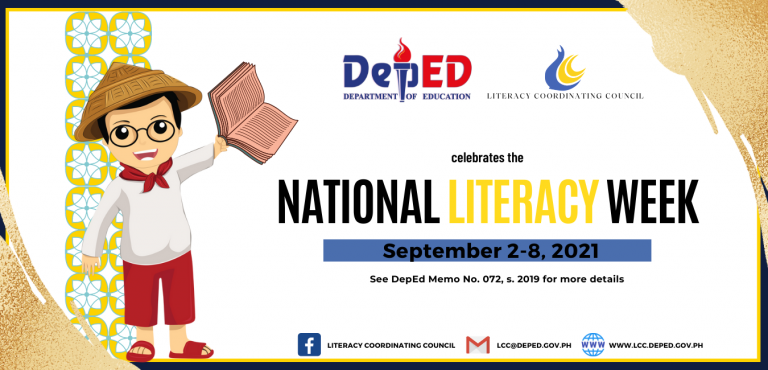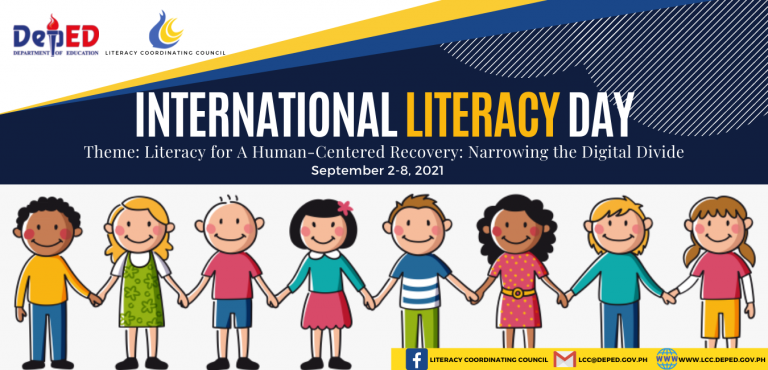 Program

Presentations

About NLC

Announcements

Documentation
2021 National Literacy Conference
Theme: Literacy Learning Innovations in the New Normal Towards Sustainable Development
In celebration of the annual Literacy Week as stipulated in Presidential Proclamation No. 239, s. 1993 entitled Declaring the Period from September 2 to 8 of Every Year as Literacy Week and DepEd Memo No. 72, s. 2019 entitled Annual Celebration of the Literacy Week, the Department of Education (DepEd), through the Literacy Coordinating Council (LCC), announces the conduct of the 2021 National Literacy Conference (NLC) with the theme "Literacy Learning Innovations in the New Normal Towards Sustainable Development" which will be held on September 6-7, 2021 via Microsoft Teams and will be broadcasted simultaneously on DepEd and LCC's Facebook page.
The 2021 NLC aims to:
present the current literacy situation in the country;

share practices on addressing challenges and opportunities in literacy education;

showcase researches on literacy education during the pandemic; and

discuss policy recommendations on the achievement of SDG 4.
Participants to this conference are:
Agency/Organization
Expected Participants

DepEd

Regional Directors

Assistant Regional Directors

Regional NLA Coordinators

Regional ALS Focal Persons

Schools Division Superintendents

Assistant Schools Division Superintendents

Division Supervisors of ALS and Formal Education

Education Program Specialists for ALS (EPSA)

District ALS Coordinators

ALS Mobile Teachers

 

Other ALS Implementers

DILG

LGU officials (Mayor, Vice Mayor, SP/SB Members, Chairman on Committee of Education, Punong Barangay, etc.) actively implementing literacy programs

Other government and nongovernment organizations

Heads and members of Civil Society Organizations (CSO) including NGOs actively involved in literacy implementation

Heads and members of Partner Academic Institutions

Researchers from Public and Private Higher Education Institutions
Registration: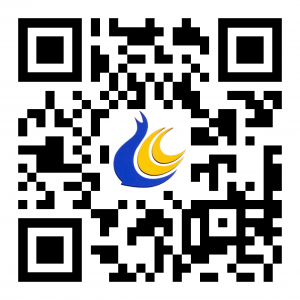 All participants shall register via: https://bit.ly/3k7ZEYN on or before August 31, 2021.             
No registration fees will be collected in this virtual conference. The meeting link will be provided to the officially registered participants one day before the event. However, attendance to the Microsoft Teams meeting will be on a first-come-first-served basis since the meeting platform will only accommodate 300 participants. All the other registered participants will be accommodated via Facebook Live on DepEd and LCC's official Facebook pages.
Note:
For more information, please contact: Jonnabel D. Escartin or Ms. Ma. Teresita C. Manlolo, LCC Secretariat, 2nd Floor, Bonifacio Building, Department of Education Central Office, DepEd Complex, Meralco Avenue, Pasig City at telephone nos. (02) 8631-0579, (02) 8631-0567, and (02) 8635-9996 or mobile phone nos. 0995-677-8591 and 0932-579-1236.