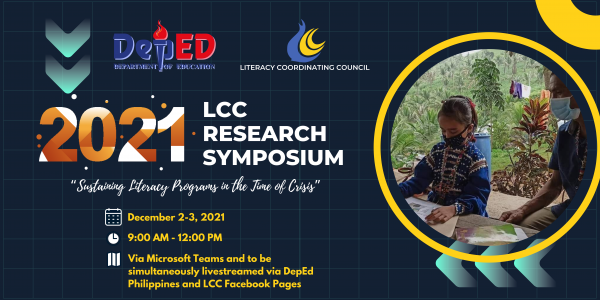 Program

Presentations

About Research Symposium

Announcements

Documentation
Literacy Coordinating Council
2021 RESEARCH SYMPOSIUM
"Sustaining Literacy Programs in the Time of Crisis"
December 2-3, 2021 | Microsoft Teams
Background
As stipulated in RA 10122, the Literacy Coordinating Council (LCC) serves as the overall advisory and coordinating body, providing policy and program directions for all literacy endeavors in the country. LCC's powers and functions include: to "recommend strategies on the development of a mass movement for the promotion of life skills and education towards the universalization of literacy;" and to "assist in identifying and adopting successful management schemes of literacy programs, and adopt measures to boost research and development work in literacy, by government agencies and NGOs involved in literacy work," among others.
In 2019, the LCC conducted its annual National Literacy Conference (NLC) with the theme "Aligning 21st Century Literacies to Industry 4.0 Through Research" which was held in October 8-10 of the same year in Iloilo City. One of the highlights of the said event was the oral presentation and poster exhibit of research studies on the said theme, in response to the Call for Papers that the Council initiated in celebration of the National Literacy and International Literacy Day.
Following the success of the said initiative, the LCC launched the following year another round of Call for Papers through Memorandum no. DM-CI-20202-00194 dated August 7, 2020 under the theme "Sustaining Community-Based Literacy Programs in Times of Crisis." The said initiative was actively supported by a good number of researchers all over the country. However, due to unforeseen events brought about by the COVID-19 pandemic, the conduct of the 2020 NLC and the Research Symposium was postponed.
This year, the Council has finally approved the conduct of the 2021 Research Symposium. In this virtual event, which be held on December 2-3, 2021 via Microsoft Teams, the participants of the 2020 Call for Papers will be gathered together and select researchers will present their respective research papers. The said event aims to recognize the significant contributions of the finalists whose papers were found relevant and significant to the sustainability of community-based literacy programs in the times of crisis. The LCC will honor them by awarding Certificates of Recognition and providing cash incentive for each research study. The researchers have the liberty on how to utilize it; however, they are highly encouraged to use the said incentive for the conduct of additional research study for submission to the Council.
The virtual research symposium is hoped to intensify the Council's advocacy for research and development work at the local communities, spread awareness among various literacy stakeholders, and maximize the participation of all researchers in the country in achieving functional literacy for all. Most importantly, the selected research papers shall be used as empirical reference and data for relevant policy recommendations, and eventually be translated into policies both at the local and national levels, elevating the literacy situation of the country.
Theme
Sustaining Literacy Programs in the Time of Crisis
Objectives:
The research symposium aims to:
provide a venue for sharing of research breakthroughs anchored to the community's literacy needs in times of crisis;
understand and amplify the role of literacy in times of crisis;
capacitate literacy educators and workers on online pedagogies, Alternative Delivery Modes (ADMs), and Alternative Learning System (ALS);
strengthen the participation of various stakeholders in literacy governance to achieve a sustained literacy in the new normal and beyond;
develop relevant policy recommendations on literacy focusing in times of crisis (e.g. COVID-19 pandemic, volcanic eruptions, and other calamities)
Target Participants
Researchers and literacy advocates from DepEd, Local Government Units, Civil Society Organizations and Academe
LCC Representatives
TWG and LCC Secretariat
Note:
For more information, please contact: Ms. Jem Beryline Bualat, Project Development Officer II of the LCC Secretariat, 2nd Floor, Bonifacio Building, Department of Education Central Office, DepEd Complex, Meralco Avenue, Pasig City at telephone nos. (02) 8631-0579, (02) 8631-0567, and (02) 8635-9996 or mobile phone nos. 0995-677-8591 and 0932-579-1236
2021 Research Symposium Day 1
2021 Research Symposium Day 2