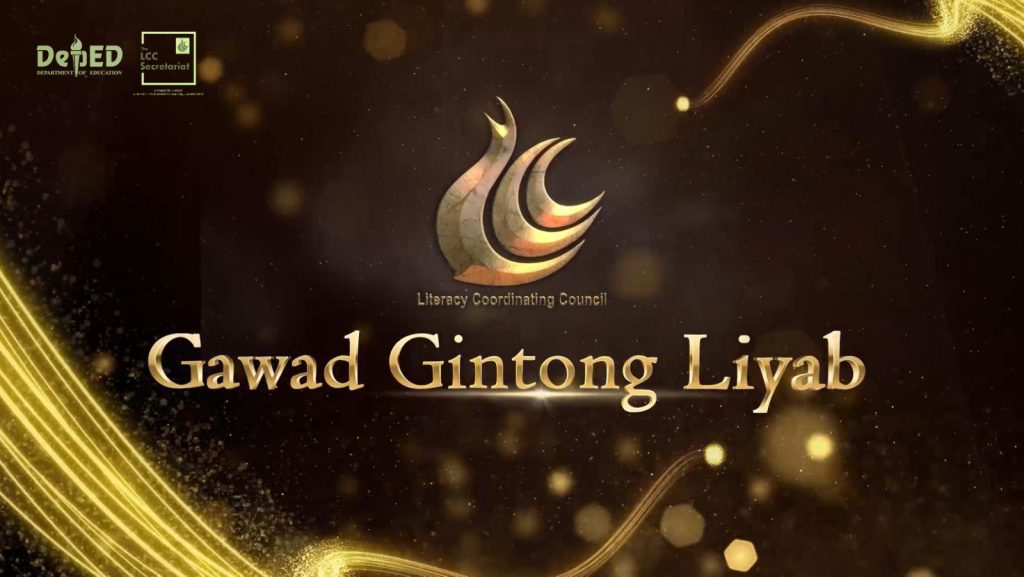 After this year's immersion of the Literacy Coordinating Council (LCC) in numerous challenging activities and engagements, the Council marked its first ever in-person awarding ceremony for the LCC Secretariat during the 2022 Gawad Gintong LIYAB. The event was conducted in conjunction with the LCC's Year-end Assessment and Planning Workshop on December 14, 2022 at DepEd NEAP Region XI in Davao City. With the theme "Rising to the Challenge with Excellence in Service," this recognition and appreciation rites aim to acknowledge the excellent performance of the LCC Secretariat who spent long hours of hard work and tons of sacrifices in implementing the Council's programs, projects, and activities for Fiscal Year 2022, being able to successfully surpass all the challenges brought about by the still lingering COVID-19 virus.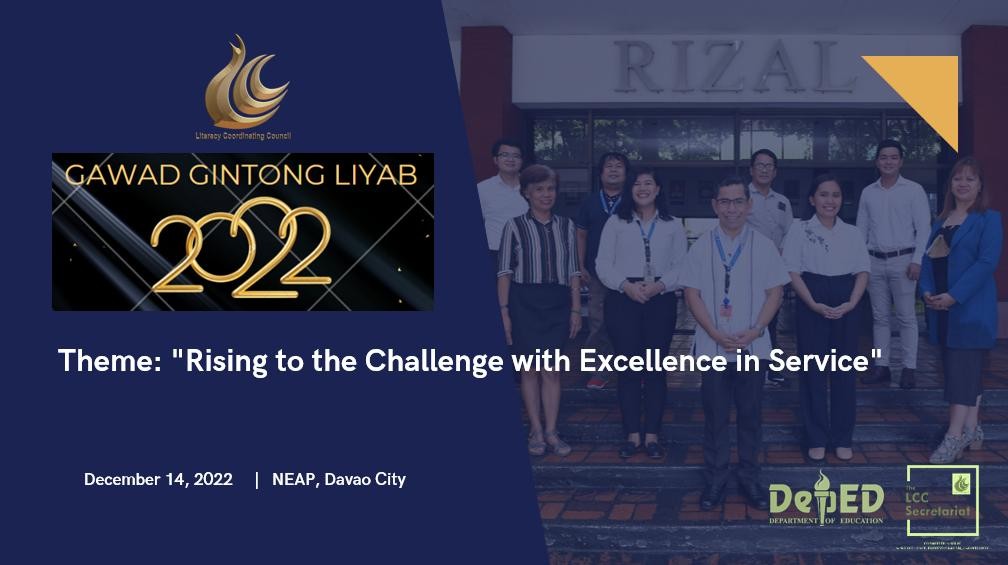 Pursuant to the provisions of DepEd Order No. 9, s. 2002 titled "Establishing the Program on Awards and Incentives for Service Excellence (PRAISE) in the Department of Education," the LCC Secretariat established its own PRAISE program for its technical and administrative personnel. On December 22, 2020, at the height of the pandemic, the first awarding ceremony for the LCC Secretariat was held via Microsoft Teams. The following year, on December 10, 2021, the LCCS staff were accorded with honor, recognition, and incentives during its virtual conduct of the 2021 Year-end Activity with the theme "Recognizing Excellence, Celebrating Wins." These celebrations motivated the staff and provided them with a sense of accomplishment and fulfillment. These initiatives were made in order to encourage excellent performance, quality work output and productivity.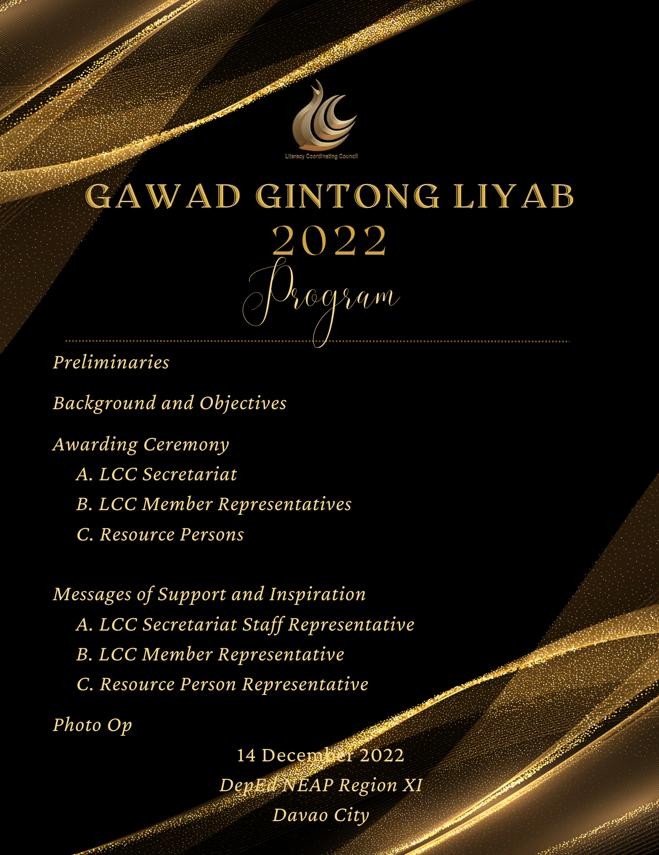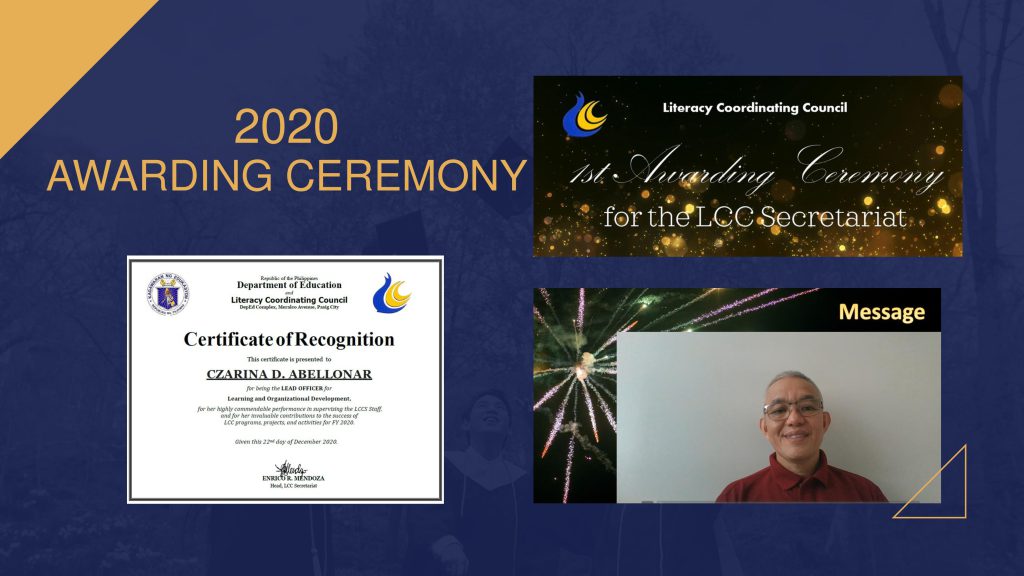 Consequently in 2022, the Five Program Pillars of the LCC was institutionalized. LIYAB stands for Likha (Policy Research and Development), Ilaw (Advocacy, Social Mobilization, and Partnerships), Yaman (Knowledge Management), Aruga (Learning and Organizational Development), and Buklod (LCC Localization), representing the 5 Key Result Areas of the Council under program management. Anent to this, the 2022 Awarding Ceremony for the LCC Secretariat was called "Gawad Gintong LIYAB." This branding best represents the distinction bestowed to the members of the LCC Secretariat for being able to successfully achieve the annual objectives of the Council which are anchored on the 5 program pillars. From here on, the annual conduct of this PRAISE activity will be called "Gawad Gintong Liyab."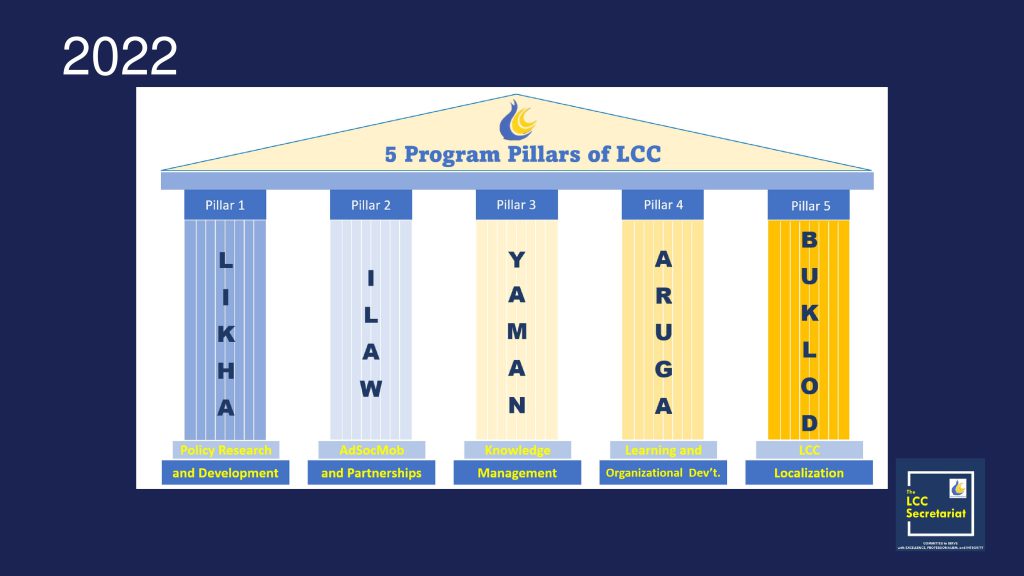 Apart from recognizing the efforts of the Secretariat, the LCC also awarded the Council member representatives, Technical Working Group members, and resource persons for their contributions and efforts to push for the effective and efficient implementation of the Council's programs, projects, and activities for 2022. Each of the awardees received a plaque and a certificate of recognition.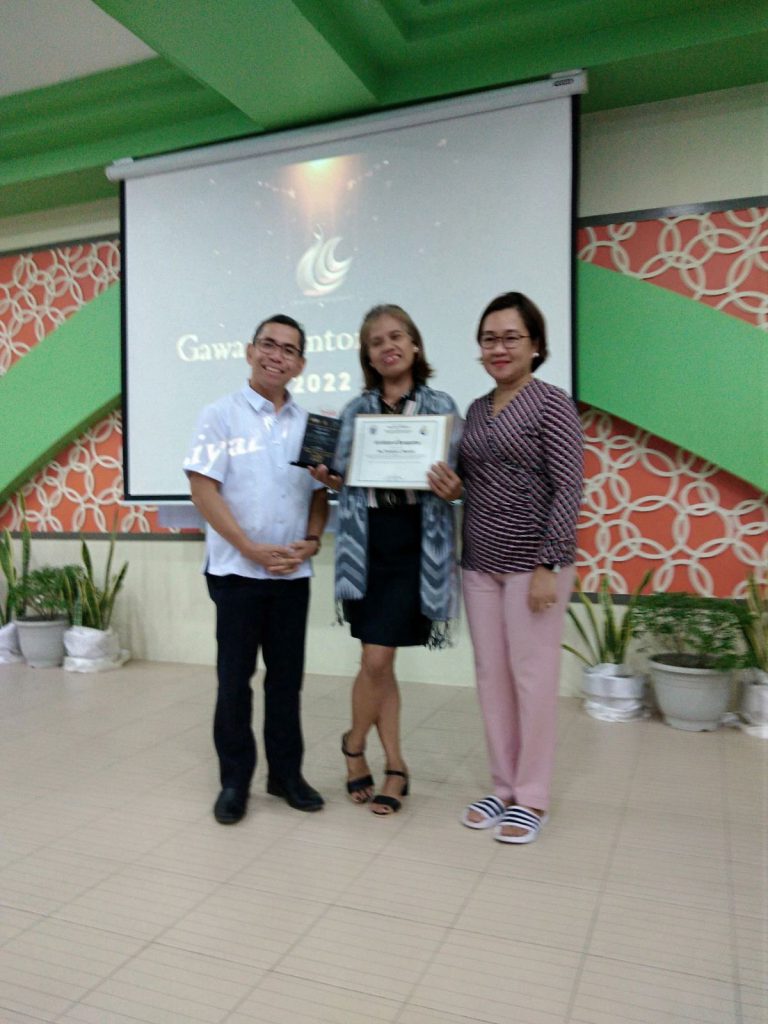 The LCC member representatives, LCC Secretariat personnel, and resource persons receive their plaques and certificates of recognition for the 2022 Gawad Gintong LIYAB.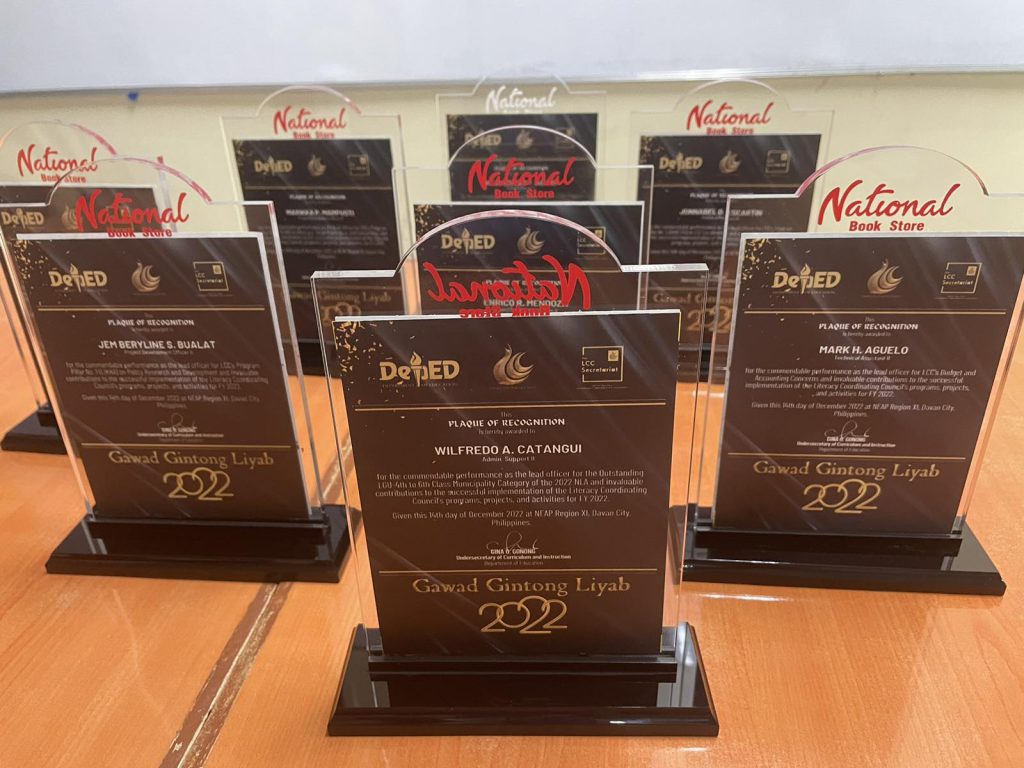 The night, filled with excitement, laughter, and tears of joy, ended with heartwarming messages of support and inspiration of the representative speakers from each of the categories.
LCC Secretariat